Mystic Villa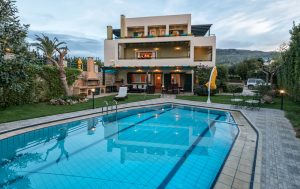 350sqm Villa, just 5 klm from the Beach & Rethymno town with 6 Bedrooms all with en-suite Bathrooms, 2 private swimming pools.
A long hallway with spotless lawn areas, a small grape yard and beautiful flowers gives you absolute ambience the minute you have entered this property.
Six bedrooms, all with en-suite bathrooms and 2 private swimming pools.
Actually this villa consists of 2 different properties/houses giving privacy within a large group of people that want to spend time together but yet again have different areas and houses.
The small apartment (100sqm) which is on the lower level consists of 2 double bedrooms with en suite bathrooms, kitchen, dining area and a living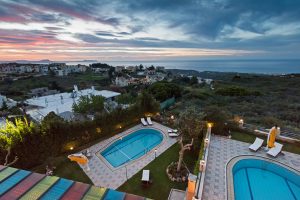 room with direct access to the pool.
The second house (250 sqm) consists of 2 floors.
On the ground floor there is fully equipped kitchen, dining area, 2 living rooms and 2 double bedrooms with en-suite bathrooms and private balconies. From the main balcony of the house which is about 25 sqm, there is direct access to the second swimming pool. Also there is another bathroom situated on the basement along with the laundry room. Going up the stairs there are 2 mores double bedrooms again with en-suite bathrooms and stunning views from their private balconies.
– The best is yet to come, due to its positioned on the hill top of the village, the views from every angle will take your breath away!
Sitting on one of the 6 very large balconies or relaxing by the pool, your eye will not be tired watching the blue of the Mediterranean Sea and the colorful sunsets!
+ The Wooden House
Moreover there is a wooden house with wine barrels, where once a week you
will have access to its local made wine and maybe along with its 3 BBQ areas,
it's a night to remember.